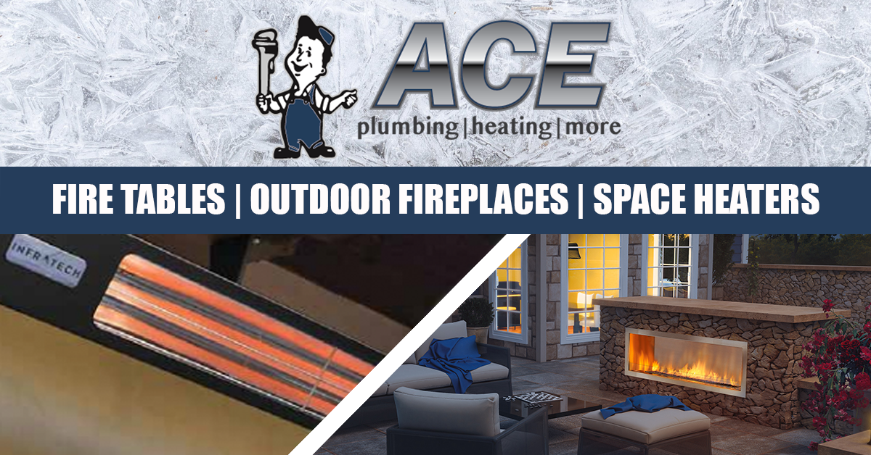 Hey Okanagan. Winter isn't coming, it's here. It might be freezing out there but that doesn't mean that you have to hide inside, ACE has outdoor heating solutions to suit the needs and budget of your home or business. Reach out to us today to learn more about the many outdoor heating options available for electric, natural gas, and propane fire tables, outdoor fireplaces and space heaters.
FIRE TABLES AND FIRE FEATURES
Fire tables are a great way to stay warm outside and create a comforting atmosphere. They are available in a wide range of styles and sizes. Whether you are looking for something small for a patio, or a larger table for your backyard or deck, ACE has a fire table that will suits your specific needs. We also service existing fireplaces so if you have one that you have owned for a few years and want to make sure it is running great, give us a call and one of our gas fitters can come have a look. The vast majority of fire tables can run off either natural gas or propane, so whatever you have at your home or business, we can supply and install it. There are also custom fire features available and can be made to fit any design.
OUTDOOR FIREPLACES
Fireplaces are not just for inside anymore. ACE carries a wide selection of outdoor fireplaces that are beautiful, warm and easy to install. As these units are used outside, the majority of them do not require venting. Many of the outdoor fireplaces we carry have an optional framing kit made at the fireplace factory, allowing for easy installation. Many of the outdoor fireplaces can be converted to run on propane, so if you don't have a natural gas connection, no worries. ACE can supply, install and service all of the outdoor fireplaces we sell. Looking for something more custom, we can do that too. Outdoor fireplaces are available in a wide range of styles, sizes and colours.
OUTDOOR HEATING
If you are looking to warm up a space efficiently, then ACE has an outdoor heating solution for you. ACE carries a wide range of space heaters that come in a wide range of shapes and sizes. These outdoor space heaters can run off of natural case, a standard propane tank or even electricity. Whatever your outdoor space heating needs, for both home and business, ACE has the products and expert installers to allow you, your family and even you customers to comfortably stay outside this winter.
Contact ACE today to learn about the many outdoor heating options we have available. At ACE, we sell, install and service outdoors heaters helping you to enjoy the outdoors doors regardless of the weather.