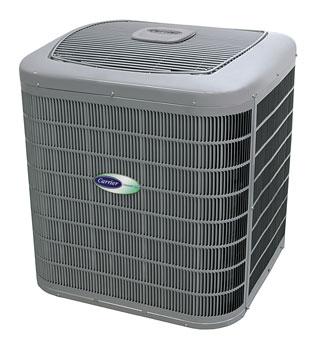 An air-conditioning system provides cooling, ventilation, humidity control and even heating (if using a Heat Pump) for a home. W. H. Carrier invented it in 1902, and we have led the market ever since.
We offer the highest efficiency in central air conditioning you can buy, and with our Puron® Refrigerant—an environmentally sound refrigerant designed not to harm the earth's ozone layer—complete comfort does not harm the world around you.
When comparing different systems, always look for high Seasonal Energy Efficiency Ratios (SEER), which measure the cooling efficiency of an air-conditioner, but also for quiet operation and ease of use—you'll be glad you did on those hot summer nights.
Want to know more? Contact ACE Plumbing & Heating and get all the information you need about Carrier's array of cooling systems for homes of any size.
Click on the models below for more info ...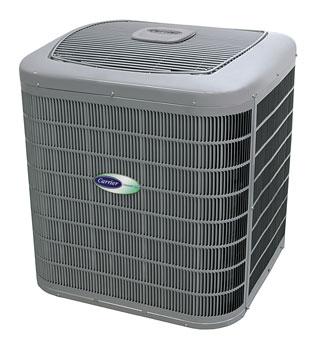 We're not the only ones that think highly of this unit. It's earned the ENERGY STAR® Most Efficient 2012 designation (select sizes) along with applause from Consumer's Digest as a Best Buy® winner.
It's easy to understand why. This model is the quietest, most efficient air conditioner we make for starters. Add to that the fact that its two-stage compressor can make a real comfort difference when it comes to managing indoor humidity.
And if you want the ultimate in comfort, make sure you combine the 24ANB1 with an Infinity indoor unit featuring a comfort-inducing variable-speed blower motor and manage it all with an Infinity control. It's the best way to assure you get the highest level of efficiency and cool comfort.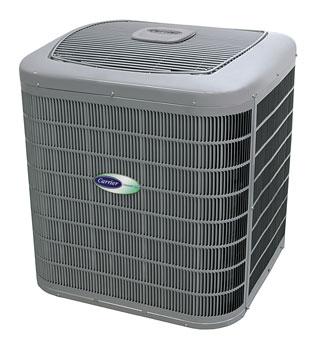 Infinity series air conditioners are engineered to be our best units. Two-stage compression, high-efficiency and quiet operation are all key reasons why this unit deserves the Infinity series name.
Two-stage compression lets the system bring the cool when it's needed but allows it to function mostly in low-stage, where you get the highest efficiency and the best dehumidification due to longer run times. It's also quieter in low stage.
Pair it with an Infinity variable-speed indoor unit and an Infinity control for even smarter energy and comfort management and you've got an exceptional cooling system.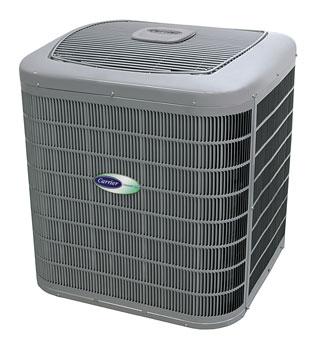 Northern climates with less humid, milder summers may not call for the highest degree of efficiency. This model lets you enjoy the benefits of an Infinity system with ENERGY STAR®qualified cooling efficiency and quiet operation.
Performance Compact 38HHR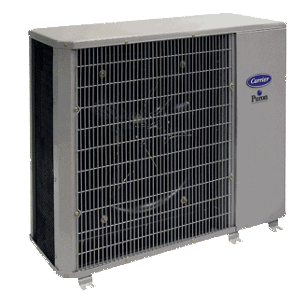 STANDARD FEATURES
Up to 15 SEER cooling efficiency
Sound: as low as 66 decibels
Single-stage operation
Filter drier system protection from moisture and contaminants
Non-ozone depleting Puron® refrigerant
10-year parts limited warranty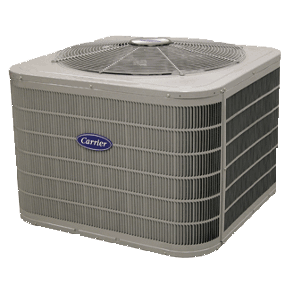 STANDARD FEATURES
Up to 16.5 SEER cooling efficiency
Sound: as low as 72 decibels
Single-stage operation
Compressor sound blanket
Filter drier system protection from moisture and contaminants
WeatherArmor™ Ultra protection
Non-ozone depleting Puron® refrigerant
10-year parts limited warranty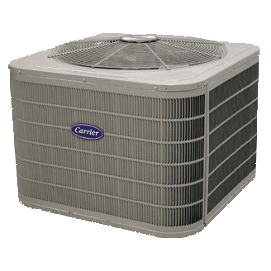 STANDARD FEATURES
Up to 15 SEER cooling efficiency
Sound: as low as 74 decibels
Single-stage operation
Compressor sound blanket
Filter drier system protection from moisture and contaminants
WeatherArmor™ Ultra protection
Non-ozone depleting Puron® refrigerant
10-year parts limited warranty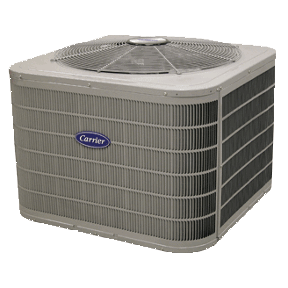 Standard Features
Up to 15 SEER cooling efficiency
Sound: as low as 72 decibels
Single-stage operation
Filter drier system protection from moisture and contaminants
WeatherArmor™ protection
Non-ozone depleting Puron® refrigerant
10-year parts limited warranty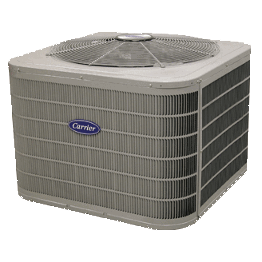 The Comfort series of air conditioners is designed to give you simple, efficient and affordable cooling. Pair them with the right, SEER-boosting indoor unit and you can enjoy the money-saving benefits of an ENERGY STAR® qualified unit in select sizes
© Copyright 2020 ACE Plumbing & Heating