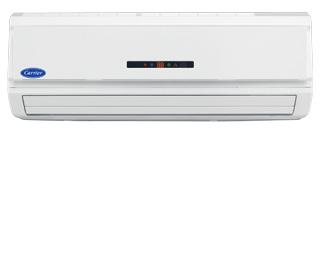 Carrier duct-free split systems deliver the unmatched comfort of a traditional split system to specific individual spaces in your home. Whether you're creating a quiet, comfort-controlled home theater room, or simply want to heat or cool an area in your home without ducts, the wide variety of Carrier duct-free split systems give you the efficiency, aesthetics and comfort of a traditional central split system.
Get in touch with your ACE Plumbing & Heating expert to learn about the many duct-free split system options available for your home.
Click on the model below for more info ...
INFINITY SERIES 38GR / RAS SERIES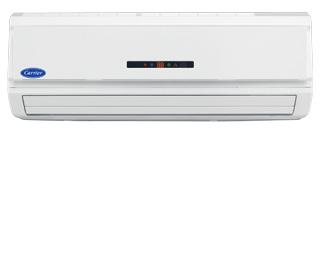 The ultra-quiet Toshiba-Carrier highwall is our most efficient ductless system. It features a convenient wireless remote and great comfort options including 5 fan speeds and a turbo-mode for when you need to adjust the temperature quickly. It's perfect for that new room space or a too-warm area like a sunroom because installation is minimally invasive and, of course, no ductwork is needed.
You can even make a room that's always too hot comfortable even in winter. The RAS system will allow you to cool even when outdoor temperatures get as low as 14°F. This versatile heat pump also allows you to heat when it's as cold as 5°F.
HIGHWALL STANDARD FEATURES
Up to 23 SEER cooling efficiency
Up to 10.0 HSPF heating efficiency
Line lengths up to 66'
Variable-speed digital inverter compressor
5 indoor unit fan speeds
Motorized louver allows fixed or oscillating motion
Turbo mode setting for quick temperature adjustment
Specific temperature setting adjustments from 62-86°F
Auto restart after power failure
Indoor sound: as low as 26 decibels
Dehumidification mode
© Copyright 2020ACE Plumbing & Heating