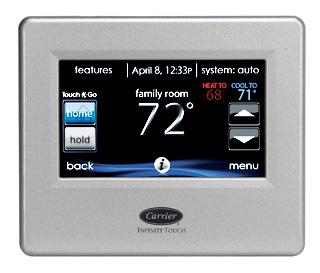 Carrier's wide variety of highly engineered thermostats lets you have precise control over temperature, humidity, air treatment and scheduling.
From larger temperature display for easy reading to designer look customized to your home décor, our controls and thermostats provide easy access, superior accuracy and unmatched flexibility for the savvy consumer who wants to save energy without compromising comfort or aesthetics.
If you'd like to know more about controls and thermostats, contact ACE Plumbing & Heating, and get the scoop on what's best for your home.
Click on the model below for more info ...
CONTROLS AND THERMOSTAT MODELS
Infinity Touch Control - Up to 8 Zones - SYSTXCCITW01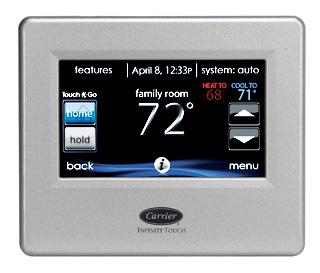 STANDARD FEATURES
Full-colour touch screen with photo upload capability
Intuitive, on-screen prompts
Local weather 5-day forecast
Comes with silver, black and white faceplate options
Remote access via Internet as well as Apple® and Android™ smartphone or tablet devices
Real-time energy use tracking Ideal Humidity System ® management capable for exacting comfort Hybrid Heat® system management capable
Intelligent, heating- and cooling-comfort staging capable
Performance Edge Programmable Thermostat TP-PRH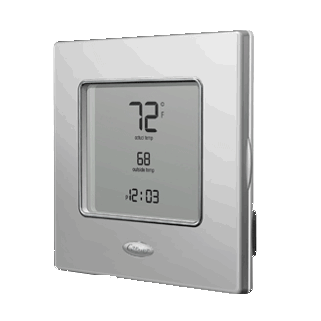 STANDARD FEATURES
Intuitive, on-screen prompts
Large, illuminated display shows inside and outside temperatures and time
Comes with attractive silver faceplate
Ideal Humidity System® management capable for better comfort
Hybrid Heat® system management capable Intelligent, heating- and cooling-comfort staging capable
Auto changeover between heating and cooling
Ventilation management capable
Day-at-a-glance 7-day, up to 4 periods per day programming
Vacation hold programming
Timed filter, UV lamp and/or humidifier panel replacement reminders
10-year parts limited warranty
Performance Edge Non-Programmable Thermostat TP-NRH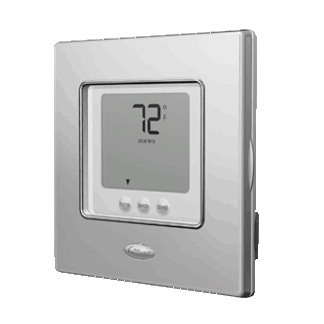 STANDARD FEATURES
Intuitive, on-screen prompts
One-button Touch-N-Go quick-settings-change feature
Large, illuminated display shows inside and outside temperatures and time
Comes with attractive silver faceplate
Ideal Humidity System® management capable for better comfort
Hybrid Heat® system management capable Intelligent, heating- and cooling-comfort staging capable
Auto changeover between heating and cooling
Ventilation management capable
Timed filter, UV lamp and/or humidifier panel replacement reminders
10-year parts limited warranty
Performance Edge Programmable Thermostat TP-PAC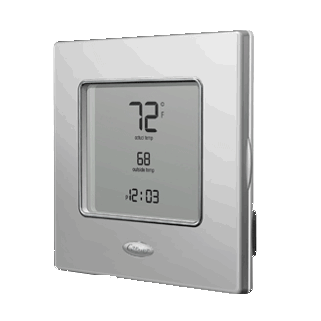 STANDARD FEATURES
Intuitive, on-screen prompts
Large, illuminated display shows inside and outside temperatures and time
Comes with attractive silver faceplate
Intelligent, heating-comfort staging capable
Auto changeover between heating and cooling
Ventilation management capable
Day-at-a-glance 7-day, up to 4 periods per day programming
Vacation hold programming
Timed filter and UV lamp replacement reminders
10-year parts limited warranty
Performance Edge Non-programmable Thermostat TP-NAC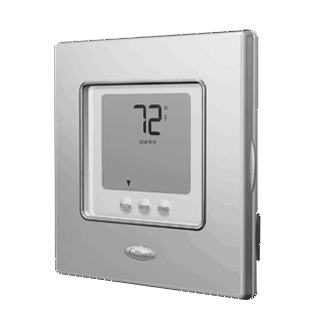 STANDARD FEATURES
Intuitive, on-screen prompts
One-button Touch-N-Go quick-settings-change feature
Large, illuminated display shows inside and outside temperatures and time
Comes with attractive silver faceplate
Intelligent, cooling-comfort staging capable
Auto changeover between heating and cooling
Ventilation management capable
Timed filter and UV lamp replacement reminders
10-year parts limited warranty
Performance Edge Programmable Thermostat TP-PHP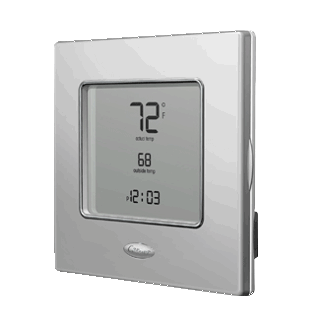 STANDARD FEATURES
Intuitive, on-screen prompts
Large, illuminated display shows inside and outside temperatures and time
Comes with attractive silver faceplate
Intelligent, heating- and-cooling comfort staging capable
Auto changeover between heating and cooling
Ventilation management capable
Day-at-a-glance 7-day, up to 4 periods per day programming
Vacation hold programming
Timed filter and UV lamp replacement reminders
10-year parts limited warranty
Performance Edge Non-Programmable Thermostat TP-NHP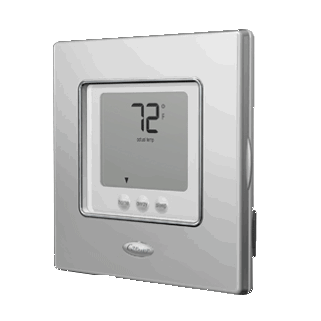 STANDARD FEATURES
Intuitive, on-screen prompts
One-button Touch-N-Go quick-settings-change feature
Large, illuminated display shows inside and outside temperatures and time
Comes with attractive silver faceplate
Intelligent, heating- and cooling-comfort staging capable
Auto changeover between heating and cooling
Ventilation management capable
Timed filter and UV lamp replacement reminders
10-year parts limited warranty
ComfortZone II - Up to 8 Zones - ZONECC8KIT01-B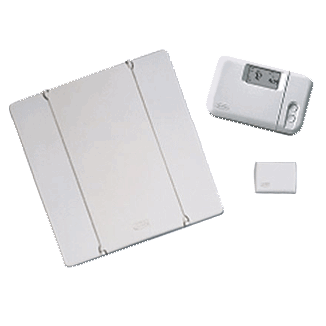 STANDARD FEATURES
Controls 8 distinct zones
Illuminated LCD display
Ideal Humidity System® management capable for better comfort
Hybrid Heat® system management capable
Auto changeover between heating and cooling
Day-at-a-glance 7-day programming by zone
Smart temperature sensors
Duct temperature (LAT) sensor
Outdoor temperature sensor
Fully modulating dampers to regulate airflow
10-year parts limited warranty
ComfortZone II - Up to 4 Zones - ZONECC4KIT01-B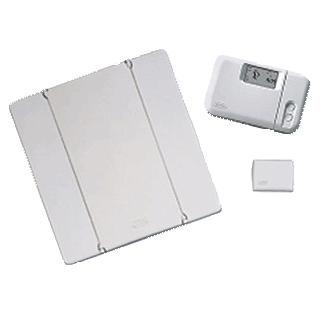 STANDARD FEATURES
Controls 4 distinct zones
Illuminated LCD display
Ideal Humidity System® management capable for better comfort
Hybrid Heat® system management capable
Auto changeover between heating and cooling
Day-at-a-glance 7-day programming by zone
Smart temperature sensors
Duct temperature (LAT) sensor
Outdoor temperature sensor
Fully modulating dampers to regulate airflow
10-year parts limited warranty
ComfortZone II - Up to 2 Zones - ZONECC2KIT01-B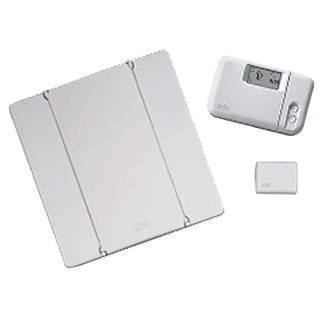 STANDARD FEATURES
Controls 2 distinct zones
Illuminated LCD display
Ideal Humidity System® management capable for better comfort
Hybrid Heat® system management capable
Auto changeover between heating and cooling
Day-at-a-glance 7-day programming by zone
Smart temperature sensors
Duct temperature (LAT) sensor
Outdoor temperature sensor
Fully modulating dampers to regulate airflow
10-year parts limited warranty
Comfort Programmable Thermostat TC-PHP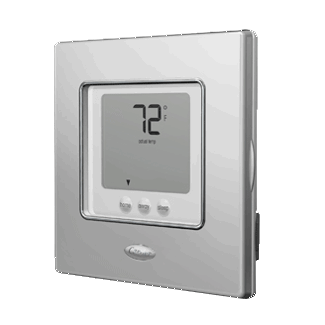 STANDARD FEATURES
One-button Touch-N-Go® quick-settings-change feature
Large, illuminated display
Intelligent, heating and cooling comfort staging capable
Auto change over between heating and cooling
Weekday/weekend programming
Timed, filter replacement reminders
10-year parts limited warranty
Comfort Non-programmable Thermostat - TC-NHP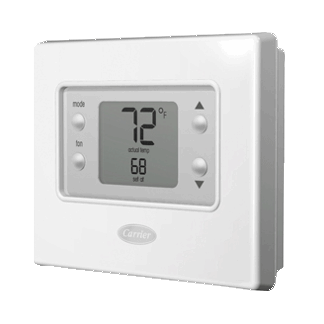 STANDARD FEATURES
Large, illuminated display
Intelligent, heating- and cooling-comfort staging capable
Auto changeover between heating and cooling
Timed, filter replacement reminders
10-year parts limited warranty
Comfort Programmable Thermostat TC-PAC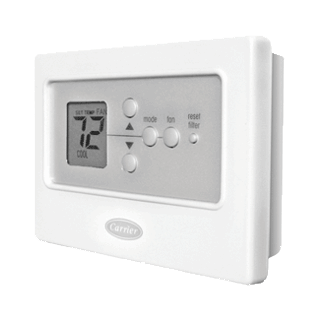 STANDARD FEATURES
Intuitive, on-screen prompts
One-button Touch-N-Go quick-settings-change feature
Large, illuminated display shows inside and outside temperatures and time
Comes with attractive silver faceplate
Intelligent, cooling-comfort staging capable
Auto changeover between heating and cooling
Ventilation management capable
Timed filter and UV lamp replacement reminders
10-year parts limited warranty
Comfort Non-Programmable Thermostat TC-NAC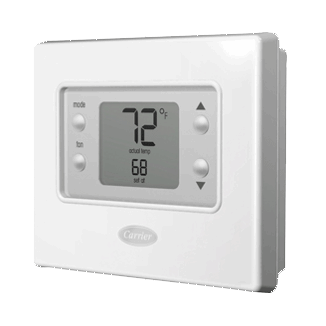 STANDARD FEATURES
Large, illuminated display
Intelligent, heating- and cooling-comfort staging capable
Auto changeover between heating and cooling
Timed, filter replacement reminders
10-year parts limited warranty
© Copyright 2020 ACE Plumbing & Heating